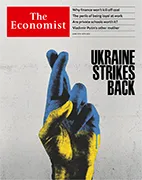 Год выпуска: июнь 2023
Автор: The Economist Newspaper and The Economist Group
Жанр: Экономика/Политика
Издательство: «The Economist Newspaper Ltd»
Формат: PDF (журнал на английском языке)
Качество: OCR
Количество страниц: 80
UKRAINE STRIKES BACK
Ukraine's counter-offensive is getting under way. The next few weeks will be critical: leader, page 9.
The country's forces are testing Russian defences all along the 1,000km front,page 16.
In Russia people are becoming anxious, page 20.
The geopolitical stakes, page 18.
Why finance won't kill off coal
Investment tools alone cannot stamp out the world's dirtiest fuel: leader, page 11.
Financiers were supposed to stop the flow of capital to coal. They are failing, page 63.
The perils of being loyal at work
In most things loyalty is avirtue; in the office it can be a liability: Bartleby, page 60.
Are private schools worth it?
Fees are rising fast. But paying them in America is a surer route to a top university than paying them in Britain, page 53.
Vladimir Putin's other mother
Despite official denials, Vera Nikolaevna Putina insisted that Russia's president was her son: Obituary, page 82.
---
The world this week Politics
The Nova Kakhovka dam on Ukraine's Dnieper river was breached, leading to disastrous flooding in downstream cities that displaced thousands of people. Ukraine said Russia had blown it up, and America promised to release evidence backing that claim. Russia denied the accusation.
Ukraine cranked up its highly anticipated counter-offensive to recapture territory held by Russia in its east and south. In a few places its forces penetrated several kilometres into occupied areas. So far the attacks have been small, and a full-scale assault is believed to be yet to come.
It's the economics, stupid
President Recep Tayyip Erdogan appointed mainstream economic thinkers to his government in Turkey. Mehmet Simsek, the new finance minister, promised to pursue "rational" policies. The Turkish lira plunged, since markets expect this will mean less intervention to prop it up.
Prince Harry became the first senior member of the British royal family to be cross-examined in court since the future Edward VII in 1891. The Duke of Sussex is suing Mirror Group Newspapers, claiming its journalists obtained information about him unlawfully, notably by phone-hacking.
Poland moved to moderate a law creating a commission that could ban allegedly proRussian politicians from running for office, after massive street protests in the capital, Warsaw. Opposition parties think the law could be abused to block their members.
At least 23 people were killed and many more injured in Senegal in clashes between security forces and protesters, according to Amnesty International. The violence began after Ousmane Sonko, a leading opposition figure, was sentenced to two years in prison for the "corruption of youth". The sentence is expected to rule Mr Sonko out of next year's presidential election.
Warring factions in Sudan are reportedly restarting ceasefire talks sponsored by America and Saudi Arabia. Previous attempts have failed to hold for long. The conflict is now in its eighth week.
Iran officially reopened its embassy in Saudi Arabia, seven years after the two countries broke off diplomatic relations. Their rapprochement was brokered three months ago by China.
At least 288 people were killed in a train collision and derailment in Odisha, a state in eastern India. The disaster is potentially embarrassing for the central government, which has invested heavily in road and rail development. In general, India's rail safety record is fairly impressive.
The Taliban were reported to have launched a successful crackdown on Afghanistan's opium poppy production. Analysis of satellite imagery has suggested the opium harvest this year will be less than 20% of last year's. In many fields, wheat has been planted in place of poppies.
At the Shangri-La Dialogue, the most important security summit in Asia, held in Singapore, the world's two biggest powers failed to communicate. Lloyd Austin, America's top defence official, blasted China for refusing to hold military talks. China, in turn, blamed America for ramping up tensions by placing sanctions on Chinese officials and reinforcing its military presence in Asia. America released a video of a Chinese military vessel crossing the path of one of its destroyers in the Taiwan Strait, calling it an "unsafe" manoeuvre.
Wildfires in Canada left swathes of North America choked in hazy smog. The New York City region recorded its worst-ever air quality, people were forced indoors and flights bound for New York-area airports were grounded due to low visibility.
Colombia's president, Gustavo Petro, accepted the resignations of his chief of staff, Laura Sarabia, and ambassador to Venezuela, Armando Benedetti. The resignations follow revelations that intelligence services had wiretapped the mobile phone of Ms Sarabia's former maid and the leak of a recording in which Mr Benedetti suggested money he helped raise for Mr Petro's presidential campaign came from drug traffickers. The president denied all allegations of wrongdoing.
Luiz Inacio Lula da Silva, Brazil's president, unveiled a plan to end illegal deforestation in the Amazon by 2030. The policy aims to strengthen law enforcement against environmental crimes, regularise land titles, and set up a tracing system for wood, livestock and other agricultural products from the Amazon. Lula, as the president is known, also promised to achieve net zero deforestation by planting as many trees as are cut down.
Mexico's foreign minister, Marcelo Ebrard, said he would step down to focus on the race to become the candidate for Morena, the ruling party, in presidential elections next year. Although he is respected, and currently second in the polls, he will struggle to beat Claudia Sheinbaum, the prominent mayor of Mexico City who is President Andres Manuel Lopez Obrador's favoured successor.
Haiti was hit by a 4.9-magni-tude earthquake and torrential rains that caused widespread flooding. Over 50 people died in the country, which is already racked by poverty and famine.
Courtier turns contender
Chris Christie and Mike Pence launched long-shot bids for the Republican nomination for president. Both were lieutenants of Donald Trump. Mr Pence served as his vicepresident but broke ranks over his refusal to concede the presidential election in 2020. They face the tricky—arguably impossible—task of courting Republicans tired of Mr Trump without antagonising his many supporters.
Mr Trump's lawyers met Jack Smith, the special counsel investigating the Republican former president at the Department of Justice, signalling that Mr Smith may soon decide whether to file charges over the handling of classified documents. Mr Smith is also leading the probe into attempts to overturn the result of the election in 2020.
A gunman killed two people outside a high school graduation ceremony in Richmond, Virginia. There have been at least 279 mass shootings in America in 2023, according to the Gun Violence Archive, a nonprofit research group.
Five countries were elected to the 15-strong un Security Council: Algeria, Guyana, Sierra Leone, Slovenia and South Korea. They were elected for regional slots, each unopposed, except for Slovenia, which kept out Belarus, a close ally of Russia. Their two-year-long stints will start in January.
The world this week Business
Apple unveiled the Vision Pro, a headset for virtual and augmented reality, at its developers conference in Cupertino, California. The new gadget, which is controlled by hand gestures, voice commands and eye movements, is pitched as a leap forward in "spatial computing". When it hits the market next year it will cost $3,499. Pricey, too, are shares in the technology giant, which hit an all-time high on the day of the announcement, nudging the firm's market capitalisation close to $3trn.
Putting differences aside
A merger announced between pga Tour, dp World Tour and liv Golf marked the end of a bitter schism in golf. liv was launched last year by Saudi Arabia's sovereign-wealth fund, luring star players away from the sport's traditional tournaments with big cheques. The deal will end legal disputes between the groups and give the Gulf state another controversial foothold in global sport.
Chinese exports slumped by more than expected in May, fuelling fears that the country's economic recovery is losing steam. In the face of weak global demand, exports fell by 7.5% year-on-year. Exports to America were particularly hard hit during the period, declining by 18.2%.
America's Securities and Exchange Commission took aim at two cryptocurrency exchanges in the latest blow to the industry. On June 5th the markets watchdog sued Binance and its boss, Changpeng Zhao, alleging violations including operating an unregistered securities exchange and mishandling customer funds. The next day it also charged Coinbase with breaking securities rules.
As geopolitical tensions increasingly disrupt crossborder investment, Sequoia Capital, an American venturecapital giant, announced it would split into three firms. By March 2024 the firm will shed its Chinese and Indian businesses. It told investors that it has become "increasingly complex to run a decentralised global investment business".
Merck, an American pharmaceutical giant, has sued authorities in an attempt to block rules for negotiating drug prices introduced last year as part of the Inflation Reduction Act. In its lawsuit Merck said that the measures are "tantamount to extortion".
Teck Resources, a Canadian miner, said it has received several proposals for deals involving its steelmaking coal business. The announcement comes after Teck's plan to separate its coal business from its copper- and zinc-mining operations was disrupted by a takeover offer from Glencore, a commodities giant, in April.
Persistent inflation led the Reserve Bank of Australia to raise interest rates by 0.25 percentage points to 4.1%, in a move that took most economists by surprise. The Bank of Canada also surprised investors, raising its policy rate from 4.5% to 4.75%.
Volatile commodity prices since Russia's invasion of Ukraine have meant big profits for traders such as Trafigura, which reported record results for the six months to March. The firm pocketed net profits of $5.5bn, more than twice as much as during the same period last year.
Saudi Arabia announced a surprise cut to oil production in an attempt to boost falling prices; it will lower its output by im barrels per day in July. Other members of opec, which met in Vienna on June 4th, also agreed to extend previously announced cuts by a year to December 2024.
The Confederation of British Industry, Britain's most prominent business lobby group, won its members' endorsement for a plan to reform its governance and culture. The group was backed by 93% of votes cast following months of crisis involving allegations of misconduct and the departure of its boss, Tony Danker.
Microsoft reached a settlement with America's Federal Trade Commission after being charged with illegally collecting data from children using its Xbox gaming system. As part of the deal the firm will be required to pay $2om to the authorities and take steps to bolster privacy protections for children using its consoles.
Industrial action shot
The Directors Guild of America, a union that represents movie and tv directors, reached a tentative agreement on pay with Hollywood studios to avert further disruption in the industry. Writers remain on strike after members of the Writers Guild of America downed pens on May 2nd.
Chris Licht stepped down as boss of cnn. Mr Licht's departure follows a week of high drama at the news network after the publication of an explosive profile of the executive. His exit is the latest headache for bosses at Warner Bros. Discovery since the completion of the blockbuster tie-up between WarnerMedia, cnn's parent company, and Discovery last year.
---
скачать журнал: The Economist - 10 июня 2023
---