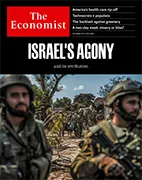 Год выпуска: октябрь 2023
Автор: The Economist Newspaper and The Economist Group
Жанр: Экономика/Политика
Издательство: «The Economist Newspaper Ltd»
Формат: PDF (журнал на английском языке)
Качество: OCR
Количество страниц: 76
Israel's agony and its retribution
Israel s agony, and its retribution: leader, page, 9.
Hamas's brutal assault will change both sides for ever, page 15.
It has failed to rally the Middle East to its cause, page 19.
The attack was the bloodiest in Israel s history: Graphic detail, page 18.
America's health-care rip-off
Which companies do best out of the system? (Hint: it isn't big pharma), page 53.
Technocrats v populists
To ward off dangerous politicians, moderate policymakers must up their game: Free exchange, page 65.
The backlash against greenery
Cost, convenience and conspiracy-mongering undercut support for pro-climate policies, page 50.
Minimise the expense and hassle for households: leader, page 10.
A two-day week: misery or bliss?
The results of one firm's experiment with a bold new idea: Bartleby.poge 57.
---
The world this week Politics
Israel came under a sustained attack on its territory, when hordes of Hamas militants broke through the border from Gaza and went on a murderous rampage in the surrounding area. At least 1.200 people were slaughtered, including 260 at a music festival. Hamas massacred whole families in villages and kibbutzim, including babies. Survivors said women were raped before they were murdered. Scores of hostages, including children, were seized by Hamas. The scale of the assault shocked the world. The bodies of 1.500 Hamas terrorists were recovered by the Israeli army.
It took Israel three days to secure its border with Gaza, though Hamas still attacked Israel with rockets. As the Israeli army amassed forces for a massive ground assault the air force pounded the densely populated area. Over a thousand Gazans have already been killed; 340.000 have already tied their homes. Israel cut off energy and water supplies until its hostages are released. Violence also flared in the West Bank, killing dozens of Palestinians. Hizbullah, another Iranian-backed militia, attacked Israel's north by firing rockets from Lebanon.
Binyamin Netanyahu told Israelis to prepare fora long conflict. The prime minister and Benny Gantz, an opposition leader, formed an emergency government and a war-management cabinet, which will include Gadi Eisenkot. Mr Gantz and Mr Eisenkot are former heads of the Israel Defence Forces. Mr Netanyahu has been criticised for ignoring experienced military leaders while courting far-right coalition partners. The new government promised to change the "strategic reality" of dealing with Hamas.
The leaders of America. Britain. France. Germany and Italy issued a joint statement expressing "our unequivocal condemnation of Hamas and its appallingacts of terrorism". Joe Biden called theattack'an act of sheer evil". America redirected an aircraft-carrier and other naval ships already in the Mediterranean to the eastern part of the sea, closer to Israel. The Pentagon is increasing its number of fighter jets in the region and will send more weapons to Israel.
The European Union's response was more muddled. The bloc issued a statement saying development aid to Palestinians would not be suspended, correcting a remark by a European commissioner that it would be.
The day after the attack on Israel an Egyptian policeman opened fire on a group of tourists in Alexandria, killing two Israelis and their Egyptian tour guide. Countries around the world stepped up security for Jews.
America formally declared that the ousting of Niger's elected government in July was a coup, which will trigger a halt to military assistance and aid programmes. Meanwhile France began withdrawing its troops from the west African country after they were told to leave by the junta.
Seven inmates, six of them Colombian, were killed in prison in Ecuador They were being held on suspicion of murdering Fernando Villavicencio, a presidential candidate who ran on an anticorruption platform, in August. A presidential run-off will be held on October 15th.
A series of earthquakes killed more than 2,000 people in Afghanistan. The quakes struck Herat province, flattening whole villages.
At least 29 people were killed when Myanmar's army carried out an artillery strike on a camp for displaced people in the state of Kachin, where separatists arc waging an insurgency. Since seizing power in 2021 the military junta has been fighting multiple ethnic armed groups.
Glitter ball
The annual conference of Britain's opposition Labour Party outlined several polices, including commitments to reform planning rulesand build more housing, and concluded with a well-received speech from Sir Keir Starmer, the party's leader. The conference capped a good week for Labour, which scored a big victory over the Scottish National Party in a by-election. Taking ground from the snp in Scotland would significantly increase Labour's chances of winning Britain's next general election.
Volodymyr Zelensky paid his first visit to NATO's headquarters in Brussels since the start of Russia's war on Ukraine 20 months ago. The Ukrainian president is seeking more support, especially for air defence. His trip came six days after 52 people were killed by a Russian missile attack on llroza, in north-east Ukraine.
An investigation got underway into a leak on an underwater gas pipeline between Finland and Estonia. Finland said the damage may have been deliberate. Speculation swirled that Russia may have sabotaged the conduit in revenge for Finland joining nato. An attack on the Nord Stream 2 pipeline last year remains unexplained.
The hard-right Alternative for Germany (AfD) performed well in two state elections in Germany. The party came third in Bavaria and second in Hesse, breakingout of its traditional areasofsupport in poorer east Germany. The Greens and the Free Democrats, coalition partners to the Social Democrats, fared badly.
The Greens also lost ground in Luxembourg's general election. their support falling by seven percentage points, to 8.6%. The ruling left-of-centre coalition was severely weakened by the result, leaving the way open for the centre right to form a government.
An Australian journalist, Cheng Lei, returned to Australia after spending more than three years in custody in China on espionage charges. China had accused Ms Cheng, a reporter for China's English-language television station, CCTN. of leaking state secrets overseas. Another Australian. Yang Hengjun. remains imprisoned in China for alleged spying.
Steve Scalise, a congressman from the suburbs of New Orleans, was nominated by Republicans to be the next speaker of the House of Representatives following the defenestration of Kevin McCarthy. Several hard-right conservatives declined to back Mr Scalise in a floor vote before the whole House to confirm the appointment.
Tilting at windmills
Robert F. Kennedy junior ditched his maverick run against Joe Biden in the Democratic presidential primary to stand instead as an independent candidate in the election next year. Mr Kennedy says he defies left-right labels, and has railed against covid vaccinations. Wall Street and the military-industrial complex. If he stays the course he could pick upsup-port from dissatisfied Democratic and Republican voters, of whom there are many.
The world this week Business
ExxonMobil announced an agreement to take over Pioneer Natural Resources, the largest operator in the lucrative Permian Basin shale field, in a deal valued at $$9-5bn. The acquisition. Exxon's biggest since Mobil Oil in 1998. is sure to spur more consolidation. Chevron and ConocoPhillips are also reportedly searching the shale patch for firms they could buy, though the prospect of oil giants gobbling up small drillers may stir antitrust regulators into action.
bp told investors that it was still committed to cutting oil and gas production and transitioning towards renewables despite its recent leadership turmoil. Bernard Looney quit as chief executive in September after failing to disclose fully his past personal relationships with female employees. Λ few weeks later bp's most senior executive in America said he was leaving the company to pursue other career opportunities.
A rebound in the world economy is in danger of fading, according to the latest forecasts from the IMF. The fund said this was in part explained by households having to "contend with a still-elevated cost of living" as savings they had accumulated during the pandemic dwindle. America's economy is proving to be resilient, and will grow by 2.1% this year. But growth in the euro area is expected to be only 0.7%. dragged down by Germany's economy, which could shrink by 0.5%.
ThetM» also said that expectations of interest rates remaining higher for longer are squeezing borrowers, leaving small and medium-sized firms with barely enough cash to pay their interest expenses. Meanwhile the bond yields on American government debt retreated from recent highs. They had surged after news that American employers created 336.000 jobs in September. almost double the number that markets had forecast. Investors think a buoyant labour market makes it less likely that the Federal Reserve will cut interest rates.
A foot in the market
Birkenstock took a misstep in its 1 po. The stock was down by almost 13% at the close of the first day of trading on the New York Stock Exchange, giving the German sandal-maker a lower valuation than it had hoped for when it priced the shares. Other big stockmarket listings this year have been successful on their debur, though the share prices of Arm. Instacart and Klaviyo have all since fallen back.
LVMH, the world's biggest luxury-goods company and a substantial investor in Birkenstock. reported a sharp slowdown in quarterly sales, a possible sign that the boom in luxury goods since the pandemic is over. It's "an end to the roaring 20s". declared analysts at Berenberg, a privately owned bank.
General Motors reached a pay deal with its union in Canada, bringing a swift end to a strike that had only just begun. The agreement increases hourly wages by 20-25%. Meanwhile Ford, GM and Stellantis announced more lay-offs in the United States as a result of the ongoing strike by the United Auto Workers. The UAW escalated its dispute by walking out of Ford's biggest plant.
Nelson Peltz is gearing up for another proxy fight with Disney and has increased his stake in the company, according to reports. In February the activist investor's firm. Trian Partners, abandoned its push for a scat on the board after Disney laid out a restructuring plan that seeks to make its streaming service profitable. Since then Disney's earnings have continued to highlight the underlying weaknesses in its streaming business, causing its stock to fall by 25%.
Country Garden issued another debt-default warning. The Chinese property developer has so far managed to weather the storm that has battered the industry. With sales slumping, the company said its "liquidity position is expected to remain very tight".
The OECD published the text of a treaty that would make multinational companies, notably tech firms, pay tax in countries where they do business but do not have a physical presence. The alluringly titled Multilateral Convention to Implement Amount A of Pillar One would reallocate Szoobn-worth of taxing rights, which is expected to benefit poorer countries the most. Meanwhile, Microsoft said it had received a demand for $28.9bn in back taxes from America's Internal Revenue Service.
Cheers!
JD Wetherspoon reported a pre-tax profit for the 12 months ending July 30th. its first annual profit since the pandemic. The British pub chain, derided by some for catering to the lower end of the beer-drinking market, likes to point out that it has 200 pubs listed in the ale-drinkers' bible, the "Good Beer Guide", more than any other company. Its pubs are also good for government revenues. Each hostelry generated an average L6.8m ($9.301) in tax (vat, alcohol duty and so on) over the past ten years.
---
скачать журнал: The Economist - 14 октября 2023
---