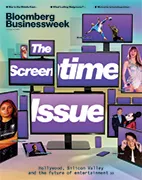 Год выпуска: October 16, 2023
Автор: Bloomberg Businessweek
Жанр: Бизнес
Издательство: «Bloomberg Businessweek»
Формат: PDF (журнал на английском языке)
Качество: OCR
Количество страниц: 68
The Screen time Issue
Hollywood, Silicon Valley and the future of entertainment
O ne Monday afternoon in August, South Korean music mogul Bang Si-Hyuk invited about 100 industry executives and press members to a Santa Monica, California, studio. He was there to unveil his new project. "I'm happy to be sharing with all of you a dream I've had for a very long time," Bang, dressed in black on a makeshift stage, told the crowd.
The man behind the Korean pop phenomenon BTS, Bang had shared few details after announcing the project in November 2021. But he'd been busy. Over the past two years, he and his deputies at Hybe Co. had sorted through more than 120,000 applications to form a new girl group. Now it was time to introduce the 20 finalists.
The band didn't have a name yet, Bang said, but the project would be called The Debut: Dream Academy. Once formed, the group would be unique in a few ways. Hybe's other bands have only Asian members and are all based in Korea, except for one in Tokyo. But this group would comprise women from all over the world and be US-based. It would perform in English, not Korean. The biggest difference would be the flow of inspiration. Traditionally, Hybe's bands have modeled their sound—if not their career paths—on US pop and hip-hop artists. Bands in Korea go through grueling, yearslong training and development before making a public appearance, unlike the more organic path to fame musicians take in the West. Bang's new group would go through T&D, as it's known, for only about a year. Bridging the gap between the Western and Korean approaches, he said, was the realization of his dream.
His partner in this experiment, John Janick, joined him onstage. The chief executive officer and chairman of Interscope Geffen A&M Records, a division of Universal Music Group, Janick runs one of the world's largest record labels and has a knack for breaking new artists. IGA released Billie Eilish's and Olivia Rodrigo's debut albums and worked on the global rollout of K-pop girl group Blackpink. Janick used similarly otherworldly language—the project was a "dream partnership"—before ceding the podium to the executives who are managing the day to day. They include Creative Director Humberto Leon, co-founder of fashion brand Opening Ceremony, and legendary Korean choreographer Sungdeuk Son.
Moments later, the finalists walked onstage, flanked by their national flags. The women, ranging in age from 14 to 21, are from a dozen countries, including Brazil, Japan, Sweden and Thailand. Wearing school uniforms bearing the official Dream Academy crest of a harp with wings, they introduced themselves in English, often followed by a second language. They've all moved to Los Angeles in the past year or so, uprooting their lives to go through a three-month competition to assess their singing and dancing skills, as well as their charm. They compete in weekly contests, clips of which are posted to TikTok, YouTube and Weverse, a Hybe-owned app that lets fans interact with each other and musicians. Fans on Weverse and Hybe's YouTube channel vote, and a panel of experts uses that feedback to decide who advances. The remaining members—the exact size of the group has yet to be determined—will be revealed on Nov. 17, at which point they'll begin recording a debut album and preparing for a tour. The experience is being captured in a documentary due out on Netflix next year. "We want to move culture; we want to headline festivals," Tom March, president of Geffen Records, said onstage. "We want to be the biggest group in the world."
Bang has introduced hundreds of millions of people to K-pop. BTS was the first South Korean act to top the Billboard charts in the US and the first to sell out stadiums across the world. The group's success—fueled by catchy beats, a message of empowerment, intense outreach to fans and seven attractive young men—paved the way for acts such as Blackpink and Twice to tour the globe. The popularity of BTS also turned Bang into the most powerful and wealthiest music exec in his home country. His personal fortune is worth about $2 billion, according to the Bloomberg Billionaires Index.
Yet, like many Korean media moguls, Bang is concerned that the hallyu—the Korean wave—could ebb. The growth in K-pop sales outside the US has slowed, he warned in a speech this year. That may be because BTS is on hiatus for at least two years as its members complete their mandatory military service. Bang plans for the group to reunite in 2025, but there's no guarantee that if or when it does, it will inspire the same devotion among its fans, who spend a lot of money buying music and merchandise and going to concerts. Hybe's latest hit group, NewJeans, has roughly 24 million monthly listeners on Spotify—not that far behind BTS, with about 32 million—and is the company's top new act. NewJeans may already be bigger than the Dream Academy-formed band will ever be, but even Bang admits there may never be another BTS.
To prevent against a dip—and to satisfy growth-hungry investors—Bang wants to transform Hybe into the first Asian music company with a global footprint. That plan started in 2021, when Hybe acquired music executive Scooter Braun's Ithaca Holdings, which is part management company, part film production business and part record company. A handful of other acquisitions followed.
Buying record labels will help Bang diversify his business by reducing his reliance on K-pop, but they're expensive. He's spent more than $1.3 billion on acquisitions so far, and Bang has to raise money to fund more such deals. With Dream Academy, he's trying to test if the "idol band" model can be exported internationally. If it's successful in the US, Hybe plans to franchise it across the world—to two or three as-yet-unnamed cities for now—as another prong in the strategy, along with buying companies, incubating the next BTS and becoming more of a tech business. Any one part of the plan underperforming probably isn't a fatal blow to Hybe. But the fandom business is obviously fickle, and it doesn't take much to receive unwelcome scrutiny from investors. "We have achieved a considerable measure of success in America," Bang said in an interview with Bloomberg Businessweek, "but there's a lot more for us to do here."
Bang grew up in Seoul listening to hip-hop and British synth-pop and forming bands with classmates; he played a guitar that his father bought him. His parents' support for his musical ambitions faded as he got older, though. Growing up in an elite family—his dad was a government official—Bang faced pressure to study something more serious. But in 1994 he won a national song contest and committed himself to a career in music.
Not long after, Bang met a musician named Park Jin-young. In 1997, Park started his own company, JYP Entertainment, and brought on Bang as a co-founder and producer. Park and Bang quickly found success with several solo artists and the boy band g.o.d. (Groove Over Dose).
Having spent some of his childhood in New York, Park wanted to try producing music in the US. Bang and Park moved into a friend's house in LA, where they shared a small room. "We didn't really have a grandiose dream," Bang says. "It was more like a very small dream that me and Park could succeed as producers in America." But their renown in Korea didn't translate to the US, where few people had heard much modern Korean pop.
Bang saw how different the music business was outside Korea. At home, management companies spent years developing an act, training multiple potential members before picking a final group. Trainees weren't allowed to date or gain weight. The biggest bands in Korea were almost all pop groups of a single sex, and the companies collected a share of their earnings from music—as well as touring, merchandise and endorsements. In the US, while musicians can get trapped in onerous contracts, they tend to be independent until they reach a certain level of popularity, and then no one company controls them: Record labels produce work, managers handle day-to-day needs, agents book tours, entertainment lawyers lawyer, etc. It allows for freedom, and Bang noticed his American contemporaries were having more fun. He wanted to go back to Korea and start a company with a roster that had more autonomy.
Park, who would later produce hits for Will Smith and rapper Mase, gave Bang some financial support and a few artists to get started. (Park declined to comment.) In 2005, Bang established Big Hit Entertainment, a play on the nickname he'd received, Hitman, from producers in the US. It would take a while for him to live up to it. He struggled to compete with the two other big "agencies," as they're known, that dominated the Korean music industry along with JYP. SM Entertainment Co. is credited with inventing K-pop. YG Entertainment Inc. developed one of the first groups to break out abroad, BigBang. Meanwhile, Bang almost went bankrupt. With few successful projects, he and his four employees spent days playing tennis on a Nintendo Wii...
---
COMING TO A SCREEN NEAR YOU
The mastermind behind K-pop mega-group BTS looks for an encore
Valorant has been a thrilling success among Gen Z gamers
The elements of Apple TV+'s Lessons in Chemistry don't blend together
Taylor Swift turns old songs into new cash
Bob Iger has returned to Disney. The magic hasn't
Killers of the Flower Moon tests Apple's streaming strategy
What's in a name? EA enters its post-FIFA phase
Ones to Watch: The arts and entertainment leaders of tomorrow
Lights, camera... It's The Businessweek Show!
IN BRIEF
Global inflation
SBF trial
Haley vs. DeSantis
OPINION
Whatever Israel's mistakes, it needs full global support
AGENDA
UK economy
US retail
World Food Day
REMARKS
Israel is united—but Netanyahu's days may be numbered
BUSINESS
Walgreens' major shareholder has his thumb on the scale
Airlines are aloft again, but it's not smooth flying
TECHNOLOGY
The war in Israel was a test for social media. It failed
How Google has a hand in pro-Putin propaganda (again)
FINANCE
Ten-year T-bonds tumble, and the free-money era is over
For sale: 550-year-old Italian bank. Interested: Nobody
ECONOMICS
The grim fallout from a wave of senior-home closures
Poland's election will have repercussions across the EU
---
скачать журнал: Bloomberg Businessweek (October 16, 2023)
---