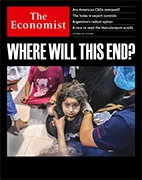 Год выпуска: октябрь 2023
Автор: The Economist Newspaper and The Economist Group
Жанр: Экономика/Политика
Издательство: «The Economist Newspaper Ltd»
Формат: PDF (журнал на английском языке)
Качество: OCR
Количество страниц: 76
WHERE WILL THIS END?
In our six-page special briefing section we look at the daunting challenges in Gaza: the destruction, the obstacles a ground invasion will face and the options for the territory's long-term future, after page 16.
Joe Biden's approach to backing Israel is facing its most severe test: Lexington, page 28.
The eu's incoherent response to the crisis in Israel: Charlemagne, page 49.
Can Israel destroy Hamas without causing an economic catastrophe? Page 59.
Six books that shed light on a century of hostility in the Middle East, page 75.
Are American CEOS overpaid?
The soaring pay of America's bosses is again under fire: Schum peter, page 58.
The holes in export controls
America's allies are the problem, page 53.
Argentina's radical option
Javier Milei still leads the polls. But the country needs more than dollarisation, page 29.
A race to read the Herculaneum scrolls
AI could help unearth a trove of lost classical texts, page 67.
---
The world this week Politics
Joe Biden's trip to Israel to lend support after the terrorist attack by Hamas was overshadowed by a blast at a hospital in Gaza, which the Palestinians said killed hundreds of people. America and Israel pointed to intelligence that suggests the explosion was caused by a missile launched by Islamic Jihad, another militant group, that misfired, falling in the hospital's car park. Hamas and many Arab countries said an Israeli strike was to blame. The incident triggered outrage in the Arab world, leading Jordan to cancel a summit between Mr Biden and the leaders of Jordan and Egypt and Mahmoud Abbas, president of the Palestinian Authority.
The humanitarian situation worsened in Gaza, where about 3,500 people have been killed, according to the Palestinians, amid Israel's retaliation for the Hamas attack. Under mounting international pressure, Israel will allow food, water and medicine to cross from Egypt to southern Gaza, where the population has moved to take shelter. King Abdullah of Jordan warned that the "region is on the brink of falling into the abyss", but was adamant that his country and Egypt would not accept refugees.
Israel's ground troops were poised to enter Gaza. They have been held back in part because of fears that Hizbullah, a powerful militia based in Lebanon, will launch a big assault across the border into northern Israel at the moment when Israeli soldiers are focused on Gaza. Hizbullah is backed by Iran, which has warned that an "axis" of militias is ready to open "multiple fronts" against Israel.
The French government put the country on the highest state of alert after an Islamist extremist stabbed a teacher to death. Soldiers were drafted in to boost security and all proPalestinian demonstrations were banned. In Brussels a supporter of Islamic State shot dead two Swedish nationals. In Illinois a six-year-old boy died after being stabbed 26 times by his mother's landlord. The mother was wounded. Police say they were targeted because they were Muslim.
Anti-Semitic incidents and "celebrations" of the attack by Hamas were reported throughout Europe. London's police force reported a big rise in assaults on Jewish targets. Rishi Sunak, the British prime minister, reminded people that showing support for the terrorist group could be punishable by a prison sentence.
In Poland the liberal Civic Coalition and its allies won enough seats at an election to form a majority in parliament, heralding a big shift in government. The conservative Law and Justice (pis) party, a thorn in the eu's side since gaining power in 2015, came first but will struggle to rule, even with the support of a far-right party. It is expected to get the first stab at forming a government; talks could take weeks. Donald Tusk, the leader of the Civic Coalition, called on the country's pis-allied president to swiftly start the process.
Ukraine has used long-range atacms missiles for the first time, according to Volodymyr Zelensky, the country's president. The missiles were reportedly used to attack Russian bases in east Ukraine, destroying nine helicopters. America silently provided the missiles to Ukraine, rather than announcing their deployment, apparently to take the Russians by surprise.
Friends in need
Vladimir Putin visited China, where he tried to gain support for his war on Ukraine. The Russian president went to a summit held by Xi Jinping, his Chinese counterpart, on China's Belt and Road Initiative. European delegates walked out of one meeting he attended. But not Viktor Orban. The Hungarian prime minister shook Mr Putin's hand, the first EU leader to do so since the start of the war.
Republicans in America's House of Representatives continued to squabble over choosing a new speaker. After spurning Steve Scalise, they were unenthusiastic about rallying around Jim Jordan.
Voters in Australia decisively rejected a constitutional amendment that would have created an advisory body for Aboriginal and Torres Strait Island people. The referendum on the Voice, as it was dubbed, was beaten by 61% to 39% and failed in all six Australian states. Critics of the proposal said it would have undermined the principle of legal equality by favouring one racial group in the constitution.
The centre-right National Party won New Zealand's general election, ending the six-year rule of the Labour Party, formerly led by jacinda Ardern. Christopher Luxon, the incoming prime minister, will form a coalition with the act party, which is classically liberal. But with a slim majority he may have to rely on the populist New Zealand First Party for support.
India's Supreme Court declined to legalise gay marriage, accepting the government's argument that only Parliament could decide the status of marriage in the country.
Pro-democracy campaigners in Indonesia were outraged by the decision of the Constitutional Court to add an exception to a law that bars people under the age of 40 from running for president. The court said that people who have been elected to regional posts can now run, which would allow the 36-year-old son of the outgoing incumbent, Joko Widodo, to contest February's election.
Two tourists and their guide were killed in a terrorist attack in Uganda that the government blamed on the Allied Democratic Forces, which declares allegiance to Islamic State. The attack was in the Queen Elizabeth National Park, which is close to the border with Congo.
Daniel Noboa was elected as Ecuador's president. The 35-year-old businessman is a centrist who has promised to reduce crime, the big issue during the election. A presidential candidate was assassinated in August. Mr Noboa's victory is a rejection of the leftist faction aligned with Rafael Correa, a disgraced former president.
Representatives from Nicolas Maduro's autocratic regime in Venezuela and the opposition met in Barbados, their first meeting in nearly a year. Some progress was made as the two sides agreed to a timeline for an election in 2024. After the talks America relaxed sanctions on the country's oil sector.
Don't try this at home
Pepper X was named as the world's hottest chilli by Guinness World Records. The previous record was held by the Carolina Reaper. Both are grown by Ed Currie (no pun intended), a farmer from South Carolina. Pepper X rates at nearly 2.7m Scoville Heat Units (a jalapeno is around 3,000 to 8,000). Mr Currie said he was in severe pain with cramps for an hour after eating a whole one.
The world this week Business
Tesla issued a downbeat earnings report. Net profit fell by 44% in the third quarter, year on year; its operating margin, a closely tracked measure of the difference between its income and expenses, plunged to 7.6%. The carmaker also said that although it will start delivering its long-delayed Cybertruck to customers in November it could take up to 18 months for the vehicle to turn a profit.
The American government tightened its ban on selling chips to China for use in artificial intelligence, extending the rules to capture sales of chips that had previously fallen just outside the ban's technical parameters. The clampdown is bad news for Nvidia, which said that the new restrictions would apply to its H800 AI chip. Chinese tech companies have been rushing to buy up the modified chip in case of a prohibition. Meanwhile, Nvidia announced a partnership with Foxconn, a Taiwanese manufacturer, to build data centres powered by Nvidia's technology.
The race for dominance in AI was thrown into focus when Baidu announced that its ERNIE'S chatbot was now as good as OpenAi's GPT-4. The Chinese tech giant showed off ernie's capabilities at an event in Beijing by getting it to complete tasks, such as writing a martial-arts novel, ERNIE has 45m users, a fraction of ChatGPT's 180m, though the American bot was launched several months earlier.
Microsoft at last completed its takeover of Activision Blizzard, the biggest ever in the video-game industry, 21 months after it was first announced. The deal had been resisted by antitrust regulators; Microsoft quickly sealed the acquisition after Britain's competition authority approved a revised proposal. America's Federal Trade Commission lost its attempt to block the transaction in court, but it is pressing ahead with its own legal hearing and may still challenge the deal.
A net 9m new subscribers joined Netflix in the third quarter, the largest number since the pandemic, which the company attributed in part to its crackdown on sharing passwords. It also raised its prices. The monthly cost in America of a premium package, which includes high-res 4K streaming, is now $22.99.
Injection rejection
Plunging demand for covid vaccines continued to take its toll on drug companies. Pfizer slashed its forecast of revenue for the year by $9bn and will book a $5.5bn write-down in the third quarter because of the "lower-than-expected utilisation" of the shots. The share prices of Pfizer and BioNTech, which developed a vaccine with Pfizer, have fallen by more than a third since the start of the year. Moderna's stock has lost half its value.
Rite Aid, one of America's biggest pharmacy chains, filed for bankruptcy protection. The company is struggling to cope with a huge debt pile, falling revenues and the cost of litigation associated with the opioid crisis. It has already closed some shops and will shut others. Around 45,000 jobs are at risk.
China's GDP was 4.9% larger in the third quarter than in the same period a year ago, a faster pace of growth than analysts had forecast. September's growth in industrial output and retail sales also beat expectations. Officials downplayed talk of an economic recovery, warning that "the external environment is becoming more complex." The property market is very fragile, as speculation mounts that Country Garden, the country's biggest developer, may have defaulted on its dollar debt.
Britain's annual inflation rate held steady in September, at 6.7%. Food prices rose at the slowest pace since June 2022. The core rate, which excludes energy and food, eased to 6.1%. The Bank of England left interest rates on hold at its most recent meeting, and markets are betting it will do so again. "Let's not get carried away," Andrew Bailey, the bank's governor, has said; the fight against inflation is not over.
Net income at Goldman Sachs fell again in the third quarter, the eighth consecutive quarter of declining profit. The bank made $i.9bn, down by 36% compared with the same period last year. David Solomon, its chief executive, has reportedly given up his hobby as a DJ, following internal criticism that it was distracting him from his main job.
By contrast, profit at JPMorgan Chase climbed by 35%, to $i3.2bn. America's biggest bank was boosted by almost $23bn in revenue from net interest income, the difference between what a bank earns in interest on its loans and what it pays out on deposits.
Cafe culture
A financial analyst lost his claim for dismissal against Citigroup for claiming a false expense for lunch. The man said he alone had consumed the two coffees, two sandwiches and two pasta dishes, though it turned out his partner had joined him. Citi forbids expensing meals for spouses. The analyst specialises in financial crime.
---
скачать журнал: The Economist - 21 октября 2023
---