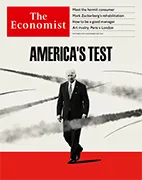 Год выпуска: октябрь 2023
Автор: The Economist Newspaper and The Economist Group
Жанр: Экономика/Политика
Издательство: «The Economist Newspaper Ltd»
Формат: PDF (журнал на английском языке)
Качество: OCR
Количество страниц: 80
AMERICA'S TEST
War between Israel and Hamas will define America's role as a superpower: leader, page 9, and analysis, page 26.
Why the invasion of Gaza istaking longer and may be more limited than planned: briefing, page 18.
China's view of Gaza: Chaguan, page 42.
Israel's war economy is working—but only for the time being: Free exchange, page 77.
Meet the hermit consumer
The trend of spending without going out, page 70.
Mark Zuckerberg's rehabilitation
AI has rescued him from a metaverse-sized hole, page 62.
How to be a good manager
Everyone suffers when management is bad. Too little is done to improve it: leader, page 72, and analysis, page 57.
Would you rather be a manager or a leader? Bartleby, page 59.
Art rivalry: Paris v London
The art market in Paris is thriving—and getting more attention, page 75.
---
The world this week Politics
Israel continued to pound Hamas's infrastructure in Gaza, knocking out command centres, weapon stockpiles and tunnels. The army said it carried out an operation inside northern Gaza to prepare for a ground invasion. Some humanitarian aid was being let in. As the death toll grew among Palestinians, the un said a third of Gaza's hospitals were shut. Clashes between Palestinians and Israeli settlers and troops intensified in the West Bank, where Israel detained scores of Hamas men.
Israel said that Hamas is holding 220 hostages. Some of the captives are dual-nationals and foreign citizens. Hamas released four women, two of whom were American. Meanwhile, Israel decided to release raw footage of the Hamas terror attack on October 7th to counter claims that the atrocity has been exaggerated. A government spokesman said such claims are "a Holocaust denial-like phenomenon unfolding in real time."
More rockets rained down on Israel, with one reaching Eilat on the Red Sea. Missiles fired from Yemen were intercepted by an American warship and rockets were also launched from Syria. America is boosting its troops and weaponry in the region amid fears that Iran's proxies, Hamas, Hizbullah and Islamic Jihad, may escalate the conflict.
After travelling to China and North Korea, Russia's foreign minister, Sergei Lavrov, visited Iran, where he held talks with the country's president, Ebrahim Raisi. Russia said the meeting was held in a "traditionally trusting atmosphere".
Volodymyr Zelensky claimed that the Russian fleet "is no longer capable of operating in the western part of the Black Sea and is gradually retreating from Crimea" because of Ukrainian attacks on Russian ships. Ukraine's president provided no evidence for the claim. Meanwhile, Russia intensified its offensive in Avdiivka, in east Ukraine.
Better late than never
Turkey's president, Recep Tayyip Erdogan, at last signed a bill approving Sweden's bid to join nato and sent it to parliament for ratification. Once Turkey's legislature passes the bill Hungary will be the only nato country yet to approve Sweden's application. NATO's secretary-general, Jens Stoltenberg, hopes all this can be done in time for a big meeting in late November. Separately, Mr Erdogan described Hamas as a "liberation group".
The right-wing Swiss People's Party (svp) came first in Switzerland's parliamentary election, taking 28% of the vote and 62 seats in the 200-mem-ber lower house. The svp's main campaign theme was restricting immigration. On the left the social democrats held their ground, but the greens' share of the vote fell and they lost several seats. The parliament will elect a new government on December 13th, though its composition is not expected to change much.
Olaf Scholz, the German chancellor, stepped up his rhetoric on restricting "irregular" immigration, saying that "too many people are coming" to Germany and "we have to deport people more often and faster." Speaking after returning from a trip to Israel, Mr Scholz was responding to a question about Arab groups in Germany.
Djibouti, Somalia and Eritrea rejected a demand by landlocked Ethiopia for direct access to their ports. Abiy Ahmed, Ethiopia's prime minister, claimed the Red Sea is his country's "natural boundary" and if it is not given a harbour "we will fight".
America formally declared that a coup took place in Gabon in August, a determination that requires it to cut aid. The declaration follows attempts by America to negotiate a restoration of civilian rule.
Hurricane Otis struck Mexico's Pacific coast, making landfall near Acapulco. Otis intensified to a category five hurricane, the strongest level of storm, when it hit.
Sergio Massa, Argentina's economy minister, took the most votes in the first round of a presidential election, with 37%. Javier Milei, a libertarian outsider who had been considered the front-runner, managed only 30%. Both will now head to a run-off in November. Patricia Bullrich, the third candidate, who has now been knocked out, has said she will support Mr Milei.
China sacked its defence minister, General Li Shangfu, who has not been seen in public since August. No reason was given, but there has been speculation that he is under investigation for corruption. Several other Chinese officials have been removed in recent months, including Qin Gang, who lost his job as foreign minister in July.
The president of the Philippines, Ferdinand Marcos junior, held an emergency meeting with his defence staff after Chinese coastguard ships collided with Filipino vessels near the disputed Second Thomas shoal in the South China Sea. The Philippines said the collision was intentional. China blamed the Filipinos for "trespassing". America accused China of continued "harassment".
America, Japan and South Korea held their first trilateral joint training exercise for fighter jets. The drill, which also involved a B52 bomber, took place south of the Korean peninsula. North Korean state media said the allies were trying to provoke a nuclear confrontation.
Japan's Supreme Court ruled that people can officially change their gender without undergoing sterilisation. Japan is one of 18 countries, most of which are in Europe, that does not recognise gender changes without surgery. The court's decision means the government must consider changing the law to allow people to change their gender in official documents.
A gunman opened fire at a bowling alley and a restaurant in Lewiston, Maine. Early reports suggested he killed at least 16 people, which would make it America's worst mass shooting this year.
America's House of Representatives at last settled on a new speaker. Mike Johnson, an ally of Donald Trump in his efforts to overturn the result of the election in 2020, got the job after Republicans rejected three other candidates.
America's Customs and Border Protection agency recorded 2.5m migrant apprehensions and expulsions on the border with Mexico during the 12 months ending September 30th, the most since records began in i960.
Delusions of grandeur
Donald Trump compared the prosecutions he is facing to the persecution of Nelson Mandela. Mr Trump also said he is "willing to go to jail", a promise that may be tested after the courts finish trying him on 91 criminal charges.
The world this week Business
Meta reported record quarterly revenue of $34.ibn, of which sales from advertising made up 98.5%. Net profit rose by 164%, to $n.6bn. Mark Zuckerberg noted the savings made from his "year of efficiency", and said that artificial intelligence was improving the business. The good results were tempered by news that dozens of American states are suing Meta, alleging that its apps, such as Facebook, are deliberately designed to be addictive to children.
On a cloud
Surging revenue from cloud computing contributed to a 27% jump in Microsoft's quarterly net profit, year on year. Satya Nadella, the ceo, said the company was reaping the gains from using Ai models developed by OpenAi for its platforms. Alphabet's cloud division, by contrast, under-performed in the quarter. However, overall revenue and profit at Google's parent company came in above forecasts, driven by digital-ad sales.
OpenAi, in which Microsoft has a 49% stake, could be valued at as much as $86bn after a possible sale of shares, according to reports. That would make the developer of ChatGPT one of the most valuable privately held firms in the world, behind the likes of SpaceX and ByteDance.
The Chinese authorities have reportedly launched an investigation into the tax affairs and land use of Foxconn, which assembles the iPhone in China. Foxconn is a Taiwanese company. Its founder, Terry Gou, stepped down from the board in September to run as an independent candidate in Taiwan's presidential election.
China's csi 300 stockmarket index fell to its lowest level since 2019, taking its losses for the year to 10%. Investors are rattled by financial problems in the property industry. Country Garden, China's biggest developer, has defaulted on a dollar bond for the first time.
Kokusai Electric, which supplies equipment to semiconductormanufacturers, made its stockmarket debut on the Tokyo exchange. Its share price jumped by 28%, valuing the company at¥542bn ($3.6bn) and making it the biggest ipo in Japan for five years.
Chevron undertook its biggest ever acquisition when it announced that it is buying Hess, an oil and gas company that has its headquarters in New York, for $53bn. The deal, hot on the heels of ExxonMobil's $59-5bn offer for Pioneer, gives Chevron access to the booming oilfields in Guyana's offshore waters. Both takeovers signal a bet that demand for fossil fuels will be buoyant for some time.
The International Energy Agency thinks differently in its latest report, forecasting that global demand for fossil fuels will peak in 2030, though demand for oil and gas will then remain flat until 2050, while it falls sharply for coal. The IEA thinks that 50% of new car registrations in America by 2030 will be for electric vehicles. It also forecasts a big uptake of heat pumps in the European Union and of solar power in China.
Ford reached a tentative agreement with the United Auto Workers that would end the union's strike at the carmaker. The company has offered a 25% pay increase over a four-year contract, with 11% in the first year. "We told Ford to pony up," said the union's president, Shawn Fain.
The strike is costing General Motors $2oom a week in operating profit. Still, the carmaker reported solid quarterly net income of $3.ibn. It also rejigged its sales targets for electric vehicles, abandoning a target of selling 400,000 next year. In another setback, California suspended permits for self-driving cars operated by Cruise, gm's autonomous-vehicle division, deeming them to be unsafe.
Tesla disclosed that it is being investigated by the Department of Justice on several fronts, including whether it has exaggerated the range of its electric cars and "certain matters associated with personal benefits". Tesla has been subpoenaed by the department to provide it with documents.
Pick is picked
Morgan Stanley named Ted Pick as its new chief executive. He is replacing James Gorman, who will have held the job for 14 years. Mr Pick currently heads the investment-banking side of the business.
Britain's financial regulators confirmed that bankers' bonuses will no longer be capped. The cap was introduced in 2014, limiting bonuses to twice the size of a banker's basic salary. The regulators believe that removing the cap will give firms more flexibility in pay during bad times.
Santander's quarterly net profit leapt by 20%, year on year, making it the latest big bank to benefit from charging its borrowers higher interest on their debts. UniCredit's profit was up by 36%. The Italian lender said it would set aside €1.1bn ($1.2bn) as "non-distributable reserves", which allows it to avoid paying the government's windfall tax on bank profits.
---
скачать журнал: The Economist - 28 октября 2023
---