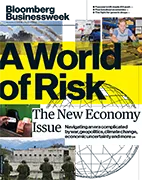 Год выпуска: November 06, 2023
Автор: Bloomberg Businessweek
Жанр: Бизнес
Издательство: «Bloomberg Businessweek»
Формат: PDF (журнал на английском языке)
Качество: OCR
Количество страниц: 68
Help WANTED
From Wall Street to the World Bank, one risk towers above all
IF YOU'VE BEEN TROUBLED LATELY by a sense of foreboding, a vague but unmistakable feeling that the planet is teetering on the edge of some precipice, you're not alone.
Jamie Dimon is there with you. "This may be the most dangerous time the world has seen in decades," the chief executive officer of JPMorgan Chase & Co. said recently. World Bank President Ajay Banga calls it a "dangerous juncture" for the global economy. Larry Fink, CEO of BlackRock Inc., envisions a future of "less hope and a lot more fear." What alarms them, and increasingly leaders everywhere in business, finance and government, can be summed up with a single word: geopolitics.
Gone is the relative stability of what historians term the Pax Americana, the 75 years of US economic, military and cultural dominance that followed World War II. In its place is a multipolar and inherently fragile competition for power and influence over trade, technology and territory. This new age represents, in the words of German Chancellor Olaf Scholz, a Zeitenwende—an "epochal tectonic shift," in which fascism, authoritarianism and imperialism are newly ascendant and globalization is receding.
Mark Wiseman, chair of Alberta's C$160 billion ($115 billion) pension plan, says the world is facing "a new paradigm with incalculable outcomes." There are not only conflicts in Ukraine and the Middle East, but also civil wars, insurgencies and coups d'etat in dozens of countries in Africa, Asia and Latin America, as well as the growing frequency and rising cost of climate disasters, mass migrations of millions of refugees and the looming threat of more pandemics. Add to that sticky inflation, the terrifying potential of artificial intelligence, an ebbing faith in Western democracy and political paralysis in Washington, plus the real possibility of a battle for control of Taiwan. "This is by far the most difficult and complex investing environment I've seen in 30 years— way more complicated than the global financial crisis," Wiseman says.
Yet even as war rages on in Eastern Europe, tensions flare in the IndoPacific region and Israeli tanks pummel Hamas holdouts, much of the debate in financial circles remains stuck in an endless, anachronistic loop of speculation over inflation and monetary policy. Maybe that's because we take comfort in predictability. An economist can forecast with reasonable accuracy how much a 25-basis-point hike in interest rates will affect everything from job growth to factory output. A financial analyst can, with a few clicks on a spreadsheet, calculate to the penny how much Ford Motor Co.'s labor agreement with the United Auto Workers will dent earnings per share. In both cases, the range of outcomes is narrow.
What makes geopolitical risk so vexing is that it defies modeling. The variables are a Rumsfeldian mix of known knowns, such as China's frustration with US curbs on the export of advanced semiconductor technology; known unknowns, such as where and when the Russian military may use tactical nuclear weapons in Ukraine; and, worst of all, unknown unknowns. Here, the cone of possibilities is infinitely wide. It's not that Federal Reserve decisions don't matter, but who'll really care about the price of money if suddenly we find ourselves in World War III?
CEOs everywhere are beginning to confront the new reality. On his latest conference call with shareholders, Air France-KLM's Ben Smith spoke of "heightened vigilance, strict cost controls and greater operational efficiencies in order to protect our margin" in light of "acute geopolitical tensions." Accor, Baker Hughes, Intel, Mastercard, Japan Tobacco, Porsche and Whirlpool are among the companies to cite geopolitics as a factor weighing on their third-quarter performance or clouding their confidence in the future. For a few others, such as defense contractor Northrop Grumman Corp., global instability is good business. "We're seeing it in signals of demand," CEO Kathy Warden says.
No wonder there's such a premium on expertise in international relations. Richard Haass, the former US diplomat who led New York's Council on Foreign Relations for 20 years, joined investment bank Centerview Partners LLC in September as a senior counselor to help clients with, according to co-founder Blair Effron, "geopolitical risks and opportunities." In September, Goldman Sachs Group formed the Goldman Sachs Global Institute to advise on the "intersection of geopolitics, technology and global markets." When the mostly satirical Daily Show needed someone to explain why Hamas attacked Israel, it turned to the most vocal and prolific talking head for political risk, Eurasia Group president Ian Bremmer.
But as Bremmer showed in that appearance, explanations after the fact— no matter how logical and convincing— do little but satisfy the human craving for understanding. Does it make sense in retrospect that Hamas wanted to derail the Saudi-Israeli peace initiative? Sure. Does it seem obvious now that the months of quiet in Gaza successfully lulled Israel into a false sense of security? Of course. Nevertheless, the attack was a total surprise. No one saw it coming.
What will the next shock be? Who knows.
Not since the turn of the 20th century has global power been so diffuse. In addition to the US, China, the European Union and Russia, Brazil, India, North Korea, Pakistan, Turkey and the Persian Gulf states of Saudi Arabia, the United Arab Emirates and Qatar all wield meaningful control over some combination of military, economic, cyber, energy and environmentally critical resources. Soon, artificial intelligence and quantum computing will redefine the balance again.
The world has, of course, survived plenty of crises and calamities—moments of peak hostility during the Cold War, the AIDS epidemic, the rise of Islamic terrorism, the great financial crisis and the Covid-19 pandemic, to name just a few. "What's different now is we're dealing with some version of all of them at the same time," Wiseman says.
So how long can prosperity and instability coexist? In a KPMG survey, CEOs ranked "geopolitics and political uncertainty" the No. 1 risk to economic growth over the next three years, rocketing up from seventh in 2022 and surpassing everything from disruptive technology to supply-chain vulnerabilities. Yet the same group of 1,325 corporate chiefs also responded that they're growing more confident about the prospects for the global economy, not less.
Some investors are starting to short stocks, buy Treasury bonds and concentrate assets in dollars. They may do well. But the history of financial markets is replete with tales of fortunes blown hedging for disasters that never came. If there's a lesson, it's to avoid complacency.
As Banga, the World Bank president, says: "Risks tend to move around. I'd be very careful about fixating on one and ignoring the others."
---
'Less Hope and a Lot More Fear'
Chaos on so many fronts, and no economic model is going to solve it
From the Company That Made Your iPhone...
Now Foxconn wants to build EVs. And it wants to build them in Ohio
The Unraveling of Ecuador
Lost freedoms, soaring crime, a drug crisis—what happened?
Young, African and Addicted to Gambling
It's seen as a way out of poverty. More often, it just increases personal debt
Relinking the Supply Chain
Vietnam, Poland, Mexico, Morocco and Indonesia have become key players
Expensive Drugs, Difficult Choices
High prices for patent-protected medicines hamper Brazil's HIV response
IN BRIEF
Middle East update
A UAW win
Meloni's mixup
OPINION
Is this the moment for sensible gun laws to take root?
AGENDA
US-China trade
UK growth
National Book Awards
REMARKS
Crypto's rise and (incomplete) fall, and its enduring risks
BUSINESS
Gene-editing therapy may finally be on the way
Corporate jets aren't going much of anywhere
TECHNOLOGY
Freight darling Flexport hasn't been delivering confidence
The Mideast war trips Europe's biggest tech conference
FINANCE
If you don't already own a house, maybe you never will
Why hedge fund investors are hungry for Treasuries
ECONOMICS
Expect plenty of global fallout from next year's elections
The war is battering Israel's economy
LAST THING
The Businessweek Show weighs in on ambition
---
скачать журнал: Bloomberg Businessweek (November 06, 2023)
---