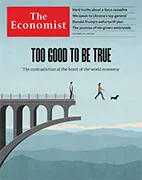 Год выпуска: ноябрь 2023
Автор: The Economist Newspaper and The Economist Group
Жанр: Экономика/Политика
Издательство: «The Economist Newspaper Ltd»
Формат: PDF (журнал на английском языке)
Качество: OCR
Количество страниц: 76
TOO GOOD TO BE TRUE
The contradiction at the heart of the world economy
The world economy is defying gravity. That cannot last: leader, page 9.
Markets think interest rates could stay high for a decade: briefing, page 16.
Hard truths about a Gaza ceasefire
Unless Hamas's hold on power is broken, peace will remain out of reach: leader, page 10,
Israel's generals think they could be fighting Hamas for a year, page 37.
Could the peace process be revived? Page 39.
The battle against Islamic State in Mosul offers lessons—and warnings—to Israel, page 38.
The culture war over the Gaza war, page 50.
Escalation would devastateeconomic growth in the Middle East: Free exchange, page 67.
We speak to Ukraine's top general
An interview on the breakthrough Valery Zaluzhny needs to beat Russia, page 43.
Donald Trump's awful tariff plan
His second term would be a protectionist nightmare, page 61.
The promise of lab-grown embryoids
They increasingly resemble the real thing, poge 68.
Why the rules around experimenting with embryos should be loosened: leader, page 12.
---
The world this week Politics
Israeli ground forces pushed deeper into Gaza to attack Hamas militants. The Israelis said they killed one of the leaders of the October 7th terrorist attack and a number of other Hamas men in an air strike on Jabalia, north of Gaza city; the Hamas-run authorities said scores of civilians had died. One of the 240 hostages held by Hamas, a female soldier, was rescued by the Israelis. Binyamin Netanyahu, Israel's prime minister, rejected calls for a ceasefire. He said people who are calling for one are asking Israel "to surrender to barbarism".
The humanitarian crisis continued to build in Gaza. The death toll among Palestinians now exceeds 8,000, according to the authorities in the enclave. Some 1.4m people have been displaced. Shelters are overflowing. More aid lorries were allowed in, though their number still fell far short of the 500 a day that had been entering the area before the war started. The first trickle of civilians left Gaza through the Rafah border crossing into Egypt under a deal negotiated by Qatar. Only foreign nationals and the severely wounded are being allowed to leave.
Israel sent missile boats to the Red Sea to head off potential strikes from Yemen, where the Houthi militia claimed to have launched rockets and drones at Israel. The Israeli army said it had intercepted an "aerial threat". The Houthis are backed by Iran and control large parts of Yemen, including the capital, Sana'a.
India's government said it would explore all legal options to help secure the release of eight Indian nationals who have been sentenced to death in Qatar for spying for Israel. The eight men formerly served in the Indian navy.
An antisemitic mob attacked the main airport in Dagestan, a mostly Muslim Russian republic in the North Caucasus. Hundreds of men swarmed the area looking for Jewish passengers who had arrived on a flight from Tel Aviv. Scores of them were arrested after they clashed with police.
The haters
Attacks on Jewish people and symbols around the world have risen markedly. According to the Anti-Defamation League, a Jewish organisation in New York, antisemitic incidents rose in America by 388% between October 7th and 23rd compared with the same period last year. Britain saw an increase of 689% over three weeks, according to the Community Security Trust, another Jewish group. Attacks on Muslims have also increased.
Republicans in America's House of Representatives introduced their own bill for $i4-3bn in emergency aid to Israel, setting up a clash with the White House. The Republican bill hives off money for Israel from a wider package put forward by joe Biden that includes extra funding for Ukraine. It offsets this by cutting $14.зЬп that has been allocated for the Internal Revenue Service under the Inflation Reduction Act, Mr Biden's signature bill.
The main opposition presidential candidates standing in Congo's general election next month called for urgent measures to prevent manipulation of the results. Electoral authorities have not published voters' roles or lists of polling stations, making it difficult to monitor voting independently.
Ziraat Katilim, a Turkish bank, has become the first foreign lender to operate in Somalia since 1970, when a Marxist government nationalised the financial system.
Li Keqiang, a former prime minister of China, died of a heart attack, aged 68. From 2012 to 2022 Li was the Communist Party's second-highest-ranking official, but he was overshadowed by Xi Jinping, who has consolidated power. Censors have deleted many of the online tributes to Li, fearing they might lead to dissent or demonstrations.
Officials in Pakistan said that tens of thousands of Afghans who reside in the country illegally had obeyed an order to leave ahead of a November ist deadline. The Pakistani government issued an order for all illegal migrants, meaning Afghans, to go following a wave of suicidebombings that it blames on Afghan terrorists. Around 1.7m of the 4m Afghans who live in Pakistan are there illegally. The government says it will forcibly expel them if they do not depart voluntarily.
Opposition parties in Bangladesh claimed that the police had arrested thousands of their supporters following clashes at anti-government demonstrations, in which two people died. The protesters are calling for Sheikh Hasina to resign as prime minister ahead of a general election that is due to take place in January.
Emmanuel Macron visited Kazakhstan, where he praised the country's leadership for not siding with Russia in its war on Ukraine. The French president's trip rattled the Russians, who are worried about the growing influence of the West in the former Soviet Central Asian states. Meanwhile, 46 miners died in a fire at a coal mine in Kazakhstan. The mine's operator, ArcelorMittal, recently agreed to transfer ownership to the Kazakh government.
Lest we forget
A senior official at the un told the Security Council that 40% of Ukraine's population, or around 18m people, are in need of humanitarian assistance, and that the figure is likely to rise over the coming winter. Russia is expected once again to focus on knocking out power stations once temperatures start to plummet. The official said that 9,900 civilians are confirmed to have been killed in the war, but that the true figure was probably much higher.
Montenegro got a new coalition government, following an election in June. Miloj-ko Spajic of the centrist Europe Now Movement is the new prime minister. Aged 36 Mr Spajic, a former banker at Goldman Sachs, is one of the world's youngest leaders.
Venezuela's Supreme Court annulled the opposition's primaries process, nearly two weeks after an overwhelming victory for Maria Corina Machado. Ms Machado is a liberal and vocal critic of Nicolas Maduro's autocratic regime. Mr Maduro had already barred her from holding office, but it was hoped that the lifting of most American sanctions would lead him to liberalise. In America Republicans called for the sanctions tobe reinstated.
Saudi Arabia seemed set to host the football World Cup in 2034, after Australia, the other potential host, decided not to bid. Questions have been raised about how women will be treated at the tournament (public places are segregated). Speculation is rife that the Saudis may relax a strict prohibition on alcohol by creating "fan zones".
The world this week Business
The Federal Reserve left its benchmark interest rate on hold again, at a range of between 5.25% and 5.5%. Inflation has slowed, but uncertainty remains over the sell-off in the bond market, the oil price and the tight labour market. The central bank left the door open to a rate rise at its next meeting in December.
America's stockmarkets all lost ground in October, the third consecutive month of declines and the longest losing streak since the start of the covid-19 pandemic in 2020. The s&p 500 slid by 2.2% during the month, the NASDAQ composite by 2.8% and the Dow Jones industrial average by 1.4%. Investors are adapting to a world of higher interest rates, which reduce the present value of future earnings.
The Bank of Japan relaxed its policy of capping long-term interest rates for the second time in three months. It will now allow the yield on ten-year Japanese government bonds to rise above 1%, treating this level as "a reference" rather than a strict ceiling. Ueda Kazuo, the bank's governor, attributed the decision to the sharp rise in American Treasury yields. The BOJ remains the world's only central bank to have a negative policy interest rate, of -0.1%.
The euro area's GDP grew by just 0.1% in the third quarter, year on year. Over the previous three months it shrank by 0.1%, dragged down by Germany's economy, which also contracted by 0.1%. That was in part a result of reduced household spending, but also of subdued global demand for Germany's industrial goods.
There was also some good news for the currency bloc, though. Annual inflation tumbled to 2.9% in October, from 4.3% in September.
China's manufacturing industry contracted again in October, according to the official purchasing-managers' index. On that measure manufacturing has shrunk in six of the past seven months.
The United Auto Workers union ended its six-week strike after reaching pay deals with Ford, General Motors and Stellantis, the parent company of Fiat-Chrysler. All three Detroit carmakers have agreed to increase workers' pay by 25% over a four-year contract. Ford said recently that the stoppage cost it $i.}bn in operating earnings, GM reckoned it was losing $2oom a week, and Stellantis said it lost $3.2bn in revenue.
Putting the brakes on
Meanwhile GM's self-driving car business, Cruise, decided to halt all its robotaxi operations after California suspended the service in the state because of safety concerns. Cruise's other markets include Dallas, Houston, Miami and Phoenix.
Panasonic reduced the profit outlook for its electric-car battery business, blaming a slowdown in demand for some Tesla models. Panasonic has made a big bet on making batteries for evs and operates a factory with Tesla in Nevada. Tesla's share price has fallen sharply in recent weeks, as investors fret that it will sell fewer cars in the future.
WeWork is reportedly preparing to file for bankruptcy protection. The office-sharing company is mired in debt and is now worth just tens of millions of dollars, a far cry from its valuation of $47bn in January 2019, when exuberance about its prospects peaked.
Big oil companies reported bumper quarterly earnings. BP'S headline profit came in at $4.9bn for the third quarter, Chevron made $6.5bn in net income, ExxonMobil $9.1 and Shell $5.8bn. Those were all higher than in the previous quarter, and largely reflect rising oil prices from July to September.
Orsted, based in Denmark and the world's largest developer of offshore wind power, announced that it was withdrawing from two projects off the coast of New Jersey, citing "adverse impacts" relating to supply chains and increased interest rates. The company is writing down $4bn in impairments. The industry has been hit by a storm of problems.
General Electric said recently it expects its wind division to lose $2bn over two years.
Thinking, fast and slow
Britain hosted the first global artificial-intelligence summit at Bletchley Park, the base for Alan Turing's band of codebreakers during the second world war. Attendees included Kamala Harris, the American vice-president; Wu Zhaohui, China's vice-minister of science and technology; and Elon Musk, the boss of Tesla. The conference aimed to hammer out a set of international rules for the safe and responsible development of AI.
X, formerly Twitter, is now worth $19bn, according to internal memos reported in the press. Elon Musk paid $44bn for the company when he bought it last year. He has struggled to turn the platform into an "everything app". Ever the optimist, in March Mr Musk told staff that he saw "a clear, but difficult, path" to achieving a valuation of at least $250bn.
---
скачать журнал: The Economist - 4 ноября 2023
---