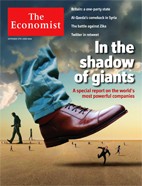 Год выпуска: сентябрь 2016
Автор: The Economist Newspaper and The Economist Group
Жанр: Экономика/Политика
Издательство: «The Economist Newspaper Ltd»
Формат: PDF (журнал на английском языке)
Качество: OCR
Количество страниц: 104
Описание: The rise of the corporate colossus threatens both competition and the legitimacy of business: leader, page 9. A small group of giant companies are once again dominating the global economy. Our special report examines the consequences, after page 44. Passive investment funds create headaches for antitrust authorities: Free exchange, page 73.
Rise of the Alt-Right
How Donald Trump ushered a hateful fringe movement into the mainstream, page 23. It is hard to criticise Mr Trump without insulting his voters: Lexington, page 32.
One-state Britain
Labour's implosion leaves Britain without a functioning opposition. That is more dangerous than many realise: leader, page 10. How Britain's left got into its crisis — and how it can get out, pages 19-22. Plans to let more schools select pupils on ability divide parents and politicians, page 55.
Al-Qaeda in Syria
Anything that stops the bombs falling is welcome, but don't expect the ceasefire to last: leader, page 12. Eclipsed by Islamic State, al-Qaeda may be making a comeback in a more pragmatic, and dangerous, form, page 56.
The danger of Duterte
The new president may undo the economic gains of recent years, page 37.
Twitter's future
It is too late for the social-media company to become the giant that people once expected, page 58. A co-founder of Twitter is betting he can revolutionise digital publishing once again, page 59.
Investment in China
Private investors keep their hands in their pockets, page 67.
Battling Zika
The promise and peril of "gene drives": leader, page 12. Scientists have learned a great deal about Zika since the outbreak began. Now for the task of stopping it, page 74.
---
скачать журнал: The Economist - 17 сентября 2016
---